On January 1, 2015 the home health industry will experience a major regulatory change with a new OASIS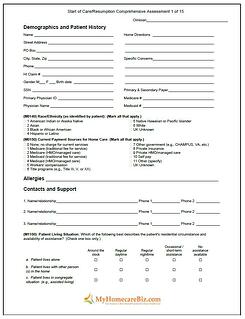 home health dataset called OASIS C-1.
1. OASIS C1 Implementation
A modified version of OASIS-C1 (referred to as "OASIS-C1/ ICD-9 Version.") has been created. In this version of OASIS-C1, the 5 items that use ICD-10 codes (i.e. - M1011, M1017, M1021, M1023, M1025) were removed and replaced with the corresponding items ICD-9 based items from OASIS-C (i.e. – M1010, M1016, M1020, M1022, M1024). The OASIS-C1/ ICD-9 Version underwent an "emergency" Paperwork Reduction Act review by OMB and was granted approval on October 10, 2014.
2. Conversion to ASAP Processing System
Effective January 1, 2015, OASIS assessment data will be submitted to CMS via the national OASIS Assessment Submission and Processing (ASAP) system.
With the implementation of the OASIS ASAP system, Home Health Agencies will no longer submit OASIS assessment data to CMS via their state databases.
In order to transition data from the state databases to ASAP, the OASIS submission system will shut down permanently at 6:00 p.m. ET on December 26, 2014. The OASIS ASAP system will be available at 12:00 a.m. ET on January 1, 2015.