Home health billing training includes learning eligibility verification.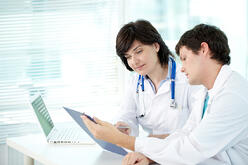 Certain payers operate on an eligibility system.
A home health agency (HHA) should find out how a payer agrees to pay before providing care and home health billing. Some payers require that you obtain "prior authorization" before care.
Others require that you verify the patient's eligibility for coverage - under their policy.
Medicare, the largest insurance company in the U.S., publishes patient eligibility in theCWF (common working file). All providers (including HHAs) use the CWF is used to determine the eligibility of patients for Medicare benefits and to monitor the appropriate usage of Medicare benefits.
Before you provide Medicare home health services to a patient, you'll want to verify their eligibility through the CWF so you get paid for the services you provide and home health billing.s
How to access the CWF.
You can access the CWF
through your own direct data entry (DDE) access to Medicare (if you are a certified HHA),
via a billing portal,
via fee-based eligibility verification services.
MyHomecareBiz verifies eligibility daily.
MyHomecareBiz's billing software
tracks compliance with eligibility and
provides alerts when eligibility verification is due to expire.
Get the Complete Home Health Diagnosis Coding Guide