Home Health Medicare News: The U.S. News & World Report Health Care Index has provided new data regarding the healthcare expenditures. The report also includes information regarding medical costs, insurance coverage, and several other categories. Within the data, it was highlighted that some of the largest change in growth for health care expenditures included caregiving for seniors and home health care.
Between 2000 and 2013, there was a large increase in expenditures and employment within the home healthcare realm. Home health aids, nursing assistants, and registered nurses saw the largest increase within this particular timespan.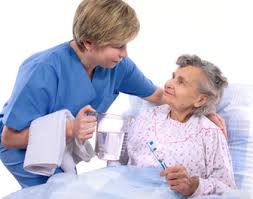 "The Health Care Expenditures Index shows that health care spending in the U.S. comes from public and private insurance, industry spending and costs paid out of Americans' own pockets. Expenditures data are weighted at 44 percent of the overall index, the largest portion. The Expenditures Index is the second-fastest rising factor, after deductibles.
As with many other factors in the index, the largest change in growth of expenditures was on public care and services for seniors. Prescription drug expenditures for Medicare skyrocketed in 2005, due to the implementation of the Prescription Drug Act, which increased coverage for seniors. Medicare services, dental and home care showed the greatest changes since 2000, followed by out-of-pocket expenses for home care."
Hospital care saw the largest amount of increase in overall health care expenditures, followed by physicians and in order of greatest to least – were spending on prescription drugs, care at retirement communities, dental care and home care.
Regarding insurance costs, "Spending for hospitals grew for individual, private and public payers, while legislation impacted prescription drug spending. In 2005, spending from Medicaid on prescription drugs dropped, while spending from Medicare jumped. Out-of-pocket spending on prescription drugs also dipped slightly in 2008, though this could be attributable to the economy, reflecting consumers' unwillingness to pay for prescriptions during the recession," says the report. Additionally, "Across all sub-indices, two themes emerge: the growing payment toward services for seniors and the increase in government-sponsored health care, including Medicare and Medicaid, which have grown at a faster rate than private health insurance. Both of these trends are expected to increase as the baby boomers continue to age and data come in from states who have expanded Medicaid."
The full report can be viewed here: http://www.usnews.com/news/health-care-index/articles/2015/05/07/us-news-health-care-index