Oasis Home Health - According to a report by JAMA Internal Medicine, the Medicare-mandated depression interventions recently adopted by home health care nurses appears to have had little effect on patients. However, these interventions appear to be mostly ineffective for those with little to moderate symptoms of depression.
Due to issues arising from symptoms related to psychosocial, disability, long-term illness and stress, nearly 25 percent of homebound patients currently suffer from depression according to the study conducted.
Martha L. Bruce, Ph.D., M.P.H., of the Weill Cornell Medical College (Department of Psychiatry), conducted the study on depression entitled The Depression Care for Patients at Home (Depression CAREPATH). She and her colleagues performed the study, with the aid of specially trained home health staff, in order to better understand the issues regarding depression and the effectiveness of the Medicare depression management care plan items. 178 nurses from 6 agencies aided in the study, in which 306 Medicare home health patients were enrolled. Each patient screened positive for signs of depression and were followed up at three, six, and 12 months with their depression severity being scored chronologically on a numerical scale.
The results of the study indicated that the interventions did not actually have a measurable effect on the full sample size. Patients with reportedly mild depression symptoms also appeared to not show improvement. However, the interventions did appear to have some sort of positive impact on those in the screening with the 208 patients with a depression score of 10 or greater with lower depression scores at three months (14.1 vs. 16.1), at six months (12 vs. 14.7) and at 12 months (11.8 vs. 15.7).
The authors go on to state:
"Medicare recommends depression screening and intervention, but the clinical needs of home health care patients, the scarcity of mental health specialists and the structure and practice of home health care pose challenges to this goal. This effectiveness trial demon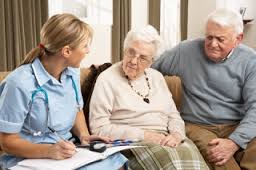 strates that home health care nurses can effectively integrate DCM [depression care management] into routine practice, with the clinical benefit to moderate to severely depressed patients extending beyond the home health care service period"
In commentary within a related article published by JAMA Internal Medicine, entitled "Now Is the Time for True Reform of Mental Health Services" the authors note that: "The interaction between age and mental disorders further complicates matters because rates of depression and dementia increase substantially with age, regardless of the presence of medical comorbidities. Their co-occurrence exponentially increases illness burden and the care necessary to meet that burden. Unfortunately, mental disorders in old age go substantially undetected and undertreated, especially in mostly homebound individuals."
This commentary begs the question: is it a matter of providing depression interventions or is a matter of providing the right interventions. Regardless, the fact remains that mental health is certainly an arena that deserve to be extensively, especially as patients begin to experience longer lifespans while living with long-term illnesses.
For more information on Medicare's Home Health Care Quality Indicators click here.
Why are contingency plans good for your home health business?