Home Health billing is full of detail and can be frustrating. Submitting claims to different payers takes ALOT of time because each payer has lots of rules and terms for which - for a new home health biller - will be unfamiliar. Your software will only HELP you submit claims but you must be in direct contact with each payer to get your claims paid.
Who are 'Payers'?
Payers are Insurance companies, Medicare and Medicaid because they are the ones paying for your services. If you are asked to bill claims for an existing payer (a payer your HHA already knows how to bill) your EMR should be all set up with the correct claim type and revenue codes. Someone in the office should be able to to show you what exactly to do. home health billing
Setting up a new 'Payer'
If you are asked to bill claims for payer your agency has not billed before you will need to contact the payer to get specifics from them on billing claims. If you are not able to get answers to all the questions you have you can send the claim as best you can and expect it to generate an error, but you will get information that way. Use the following grid to make sure you have all of the necessary Payer information.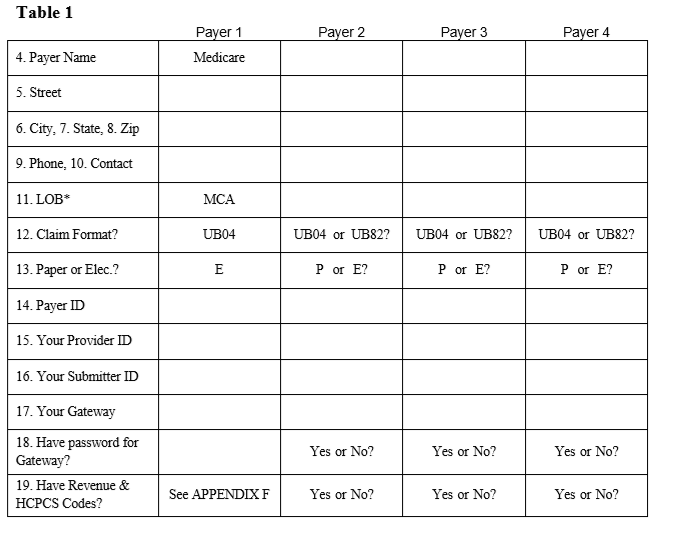 Some payers have excellent resources and are helpful, some payers are difficult to work with and difficult to get answers to questions from, but you have to be persistent.
Expect to Make ALOT of Phone Calls
As a new biller you must understand that there will be a a lot of follow up and contacting the payers. It is your responsibility to follow up with the payer to see if your claim is processing or had an error. Sending the claim from the EMR software is the easy part but you're not done.
Follow-up on claims using the Payer Website
With many payers you can follow up on claims on the payer website. Some payer websites are better than others.
Make Sure You're Registered With The Payer for Access to Claims
You will want to make sure that your agency is registered with the payer so you have access to billing information and claim status. (Registration can take a few days so make sure you are good-to-go before you submit claims).
Go Easy on Yourself
When you are new to billing you will have a lot of questions. The process of learning billing is like learning a brand new language.
NEW TO BILLING? Use these as reference tools...
Sources of information include:
Previous claims that have been sent to the same or other, similar payers.
Payer Websites
Another payer websites (getting a good billing manual from one payer might help you bill another payer)
Successful home health billing depends on...
Being in touch with the payer and regular, timely follow-up on claims. Also, use the billing resources provided by the payer.