Home Health Care Policies- Recently, a report published by the Kaiser Family Foundation has been published in attempts to explain the slowdown in Medicare spending throughout the past few years. In 2009, the Congressional Budget Office forecasted Medicare spending to reach $760 billion dollars in 2014; however, the budget has only reached $580 billion dollars this year.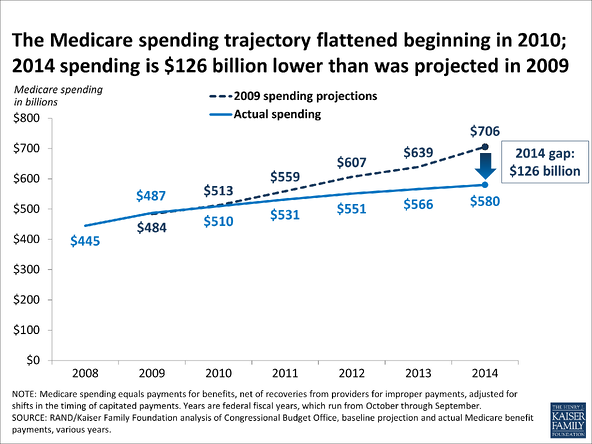 According to the Kaiser Foundation:
"The study synthesizes information from a variety of sources, and presents new analysis to assess the extent to which lower-than-projected Medicare spending in 2014 can be explained by deliberate policy and program changes, unexpected trends, and other factors. The analysis finds that about half of the gap between projected and actual Medicare spending in 2014 is explained by reductions in payments to providers and plans included in the Affordable Care Act of 2010 and the Budget Control Act of 2011. Other explanatory factors include the unanticipated slowdown in Medicare prescription drug spending caused by lower drug prices and other policy changes. Yet what accounts for more than one-third of the net $126 billion gap between projected and actual spending for 2014 remains unclear. The study reviews a number of factors that could potentially explain the spending slowdown in 2014 for which empirical evidence is not yet available. The study was authored by researchers at RAND Corporation and the Kaiser Family Foundation." (kff.org)
According to the report, several factors could be contributing to the overall spending reduction. Among the variables listed are:
Reductions in the growth in Medicare provider payment rates
Reductions in Medicare payments to Medicare Advantage plans
Elimination of the Medicare Improvement Fund
Other provisions of the Affordable Care Act
Other contributing factors were also analyzed in the report such as the Budget Control Act of 2011. These budget cuts were not implemented until 2014; however, the cuts resulted in 2% payment reductions for plans and payers.
Medicare savings from other policy changes were also taken into account. Since 2009, there have been several other minor policy changes on the legislative level. Two changes in particular that were studied included the American Taxpayer relief act of 2012 and the DME (durable medical equipment) bidding program. These two programs contributed to approximately $4 billion dollars in difference between the projected and actual spending.
Additionally, there have been several other unanticipated variables that also contributed to spending reductions. These items included in the report included:
Reductions in hospital readmissions
Payment rebasing and fraud reduction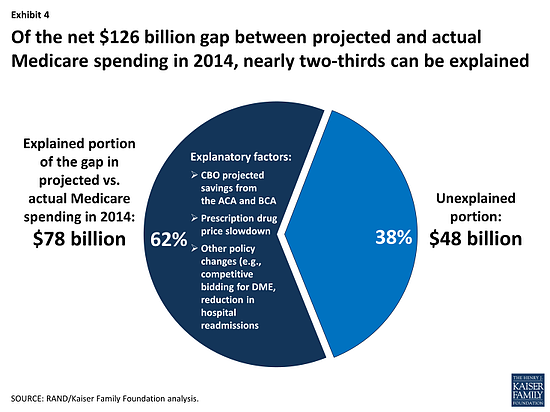 For the full report and further detailed analysis, the report can be found on the Kaiser Family Foundation website: http://kff.org/report-section/how-much-of-the-medicare-spending-slowdown-can-be-explained-issue-brief/