A report recently published by the Health and Human Services Office of Inspector General (OIG) has found that payments via Medicare for hospice services in assisted living facilities have increased nearly twofold in the past five years when cared to other options such as home health care services and nursing homes.
According to the hospice report, the purpose of the study was to give deeper examination into the hospice payment system.
"Medicare hospice care is intended to help terminally ill beneficiaries continue life with minimal disruption and to support families and caregivers. Care may be provided in various settings, including a private home or other places of residence, such as an assisted living facility (ALF). Pursuant to the Patient Protection and Affordable Care Act, the Centers for Medicare & Medicaid Services (CMS) must reform the hospice payment system, collect data relevant to revising payments, and develop quality measures. This report provides information to inform those decisions and is part of the Office of Inspector General's (OIG) larger body of work on hospice care. While the report focuses on ALFs, many of the issues identified pertain to the hospice benefit more broadly. "
The average length of care in ALFs is nearly double that of those in nursing facilities. The report states that ALFs provided a median of 98 days of hospice care while others like nursing facilities provided a median of 50, and 30 days in skilled nursing facilities. For ALFs, this equals out to roughly $16,000 per beneficiary, which is double that of those in nursing facilities.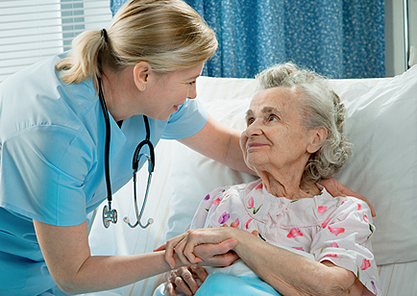 OIG states concerns regarding the intent of hospices to pursue beneficiaries in ALFs due to their ability to provide more profit through the payment system.
"Medicare paid much more for hospice care provided to beneficiaries in ALFs than for hospice care provided to beneficiaries in other settings. The median amount Medicare paid for hospice care provided from 2007 through 2012 to beneficiaries in ALFs was $16,195, more than twice as much as the median amounts for beneficiaries in nursing facilities and beneficiaries at home."
OIG stated that, due to the fact that Medicare spending for hospice care in ALFs more than doubled over 5 years to $2.1 billion. This, in combination with the fact that many hospice beneficiaries usually require less complex care, is also coupled to the findings that many beneficiaries received less than 5 hours of care visits per week, according to OIG.
Several recommendations were submitted by OIG to CMS as potential methods to decrease future spending. CMS concurred with all of the points listed below that were submitted in the report.
Reform payments to reduce the incentive for hospices to target beneficiaries with certain diagnoses and those likely to have long stays
Target certain hospices for review
Develop and adopt claims-based measures of quality
Make hospice data publicly available for beneficiaries
Provide additional information to hospices to educate them about how they compare to their peers
The full recommendation explanations and CMS responses can be viewed in the report here: http://oig.hhs.gov/oei/reports/oei-02-14-00070.pdf