The essentials of nursing are the same for both LPNs and RNs. Both care for people who are suffering from illness and injury, providing medical and functional assistance to help them live as pain-free and as comfortable as possible, and hopefully move forward in their journey toward health. The medical system requires the talents and skills of both LPNs and RNs and the differences between LPNs and RNs.
Responsibilities of the Licensed Practical Nurse (LPN)/Licensed Vocational Nurse (LVN)
Licensed Practical Nurses and Licensed Vocational Nurses provide direct and individualized nursing care to assigned patients based on nursing standards and under the supervision of the Director of Nursing and/or a Registered Nurse designee...
• Implements careplan ordered by the physician and Registered Nurse.
• Assesses and provides patient/client and family caregiver education and information pertinent to diagnosis and plan of care.
• Ensures quality and safe delivery of home health services to patients/clients and families/caregivers.
• Participates in coordination of home health services with Registered Nurse and clinical management.
• Assists patient in learning appropriate self-care activities
RNs are considered next in the healthcare hierachy after physicians. The range of work they do is large. They can diagnose and treat a patient. This gives them considerable status in the medical field and among lay people.
Nine (9) DIFFERENCES between what RNs and LPNs/LVNs can do...
LPNs work under the supervision of an RN or a physician and can't legally diagnose or treat patients. However, many long-term LPNs have the experience and training to unofficially assess a patient's condition with expertise. Within the professional these workers are highly appreciated for the practical knowledge they bring to patient care.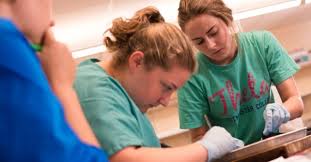 Below is a general list of what a LPN is generally NOT licensed to do:
Taking verbal orders for a doctor
Administer Blood products
Administer IV drugs
Pronounce time of death with a MD order (a RN can only do this is some states)
Access or flush PICC lines, subq ports or any type of central line
Administer Total Parental Nutrition, insulin drips or cardiac drips
Give chemo medications or administer dialysis
Does Your Infection Surveillance Include These 4 Criteria?
Can Your Governing Body Answer These 10 Questions?